Originally posted on April 8, 2023 @ 10:06 AM
On the last day of Women's History Month, March 31st, I had the distinct pleasure, privilege and honor of interviewing the Founder of HERide, Jillian Anderson.  
Before that, I had never written a BLOG post about Atlanta's newest rideshare platform.  I only shared ALL the information I had found, on the 'front door' of this site, and presented it as I discovered it.  I called it my research and due diligence for anyone interested.
We showed the RECEIPTS with a few critical screenshots because THAT interview last Friday was FIRE!
Not in terms of tech, but content – incredible information I didn't even know, and I've been a HERide driver since September 2022!
So if you're interested in what we had to say, feel free to take about an hour of your day/night and WATCH/LISTEN to what we show you.
My initial intention while planning, creating, and testing my presentation in preparation for our time together, was to have a written record of what was recorded. 
The technology I wanted to use streams 'live' to FB and YT, but only YT would save the recording. To get the written record I wanted, I used FCC and recorded the interview, and then uploaded it to Streamyard as a 'live' stream to YT where it was also saved. 
(If you play the video and it starts anywhere other than ZERO, that is why.  AND if you see any other videos during, or after THIS one, sorry, I have yet to figure out how to disable those).  
I LOVE when I can figure out the workarounds for what I want to accomplish, and am quite proud of myself for pulling everything together in less than 48 hours of recording!
Although we are both pleased with the end result, it wasn't until the first time I listened to the replay that I realized the volume on my mic's headset was a tad too loud, so the sound quality is not what it ought to be. 
More importantly, however, when some flights leave and arrive at Atlanta's airport, those planes fly close enough that I can see and hear them from my bedroom.  AND they ALWAYS interrupt or pause my internet connection, causing Hulu to crash, everytime!  🙂 
So keep these things in mind as you listen/watch for the details surrounding the screenshots below: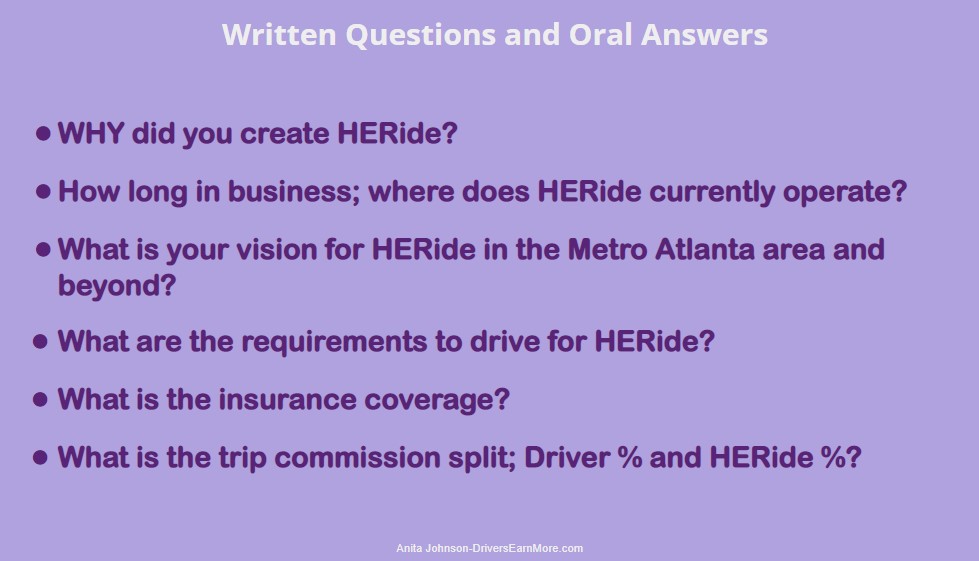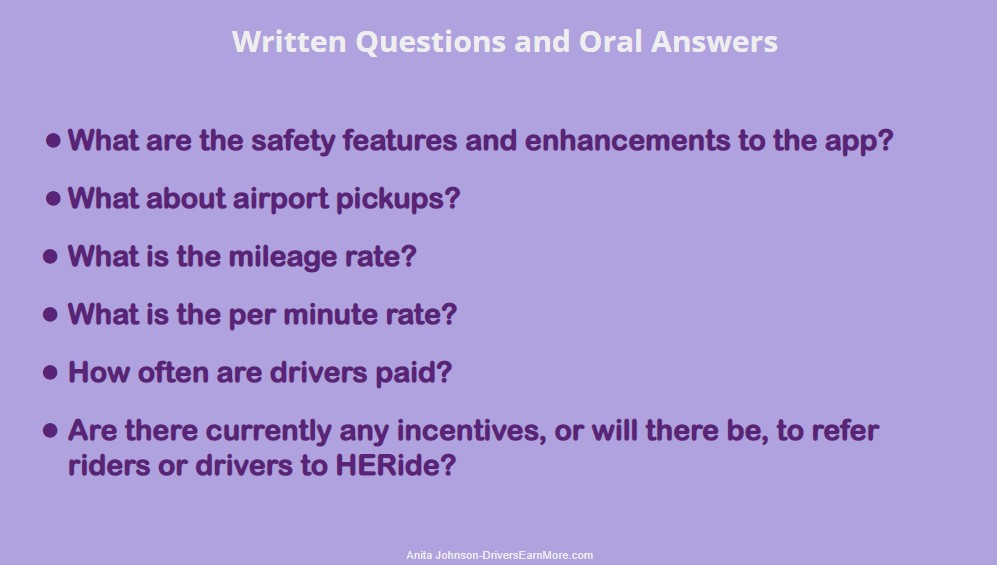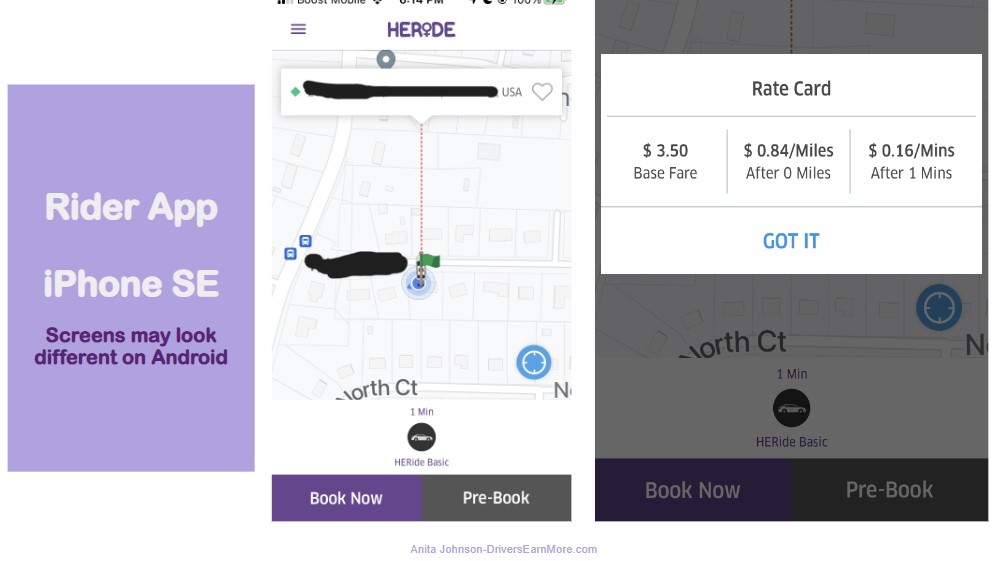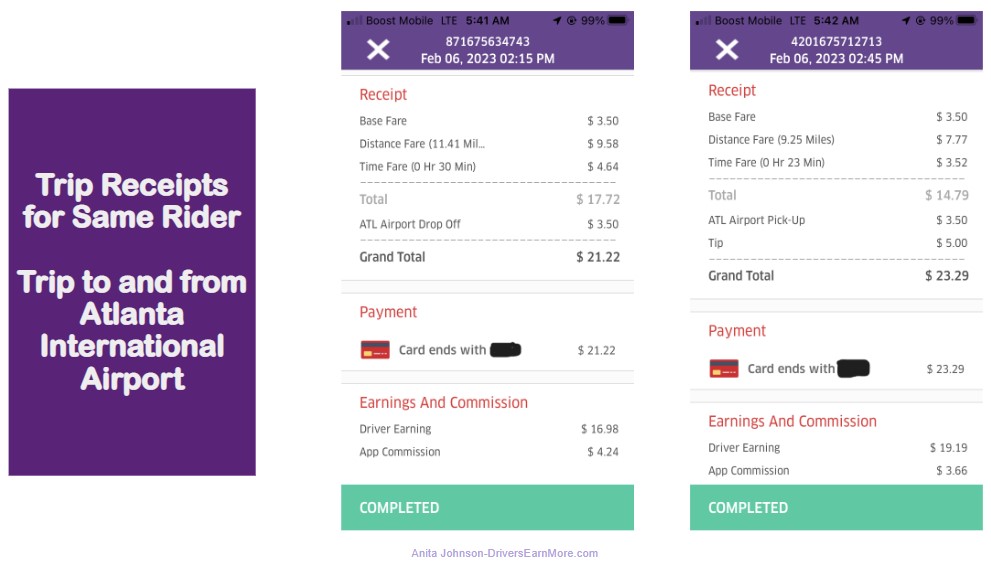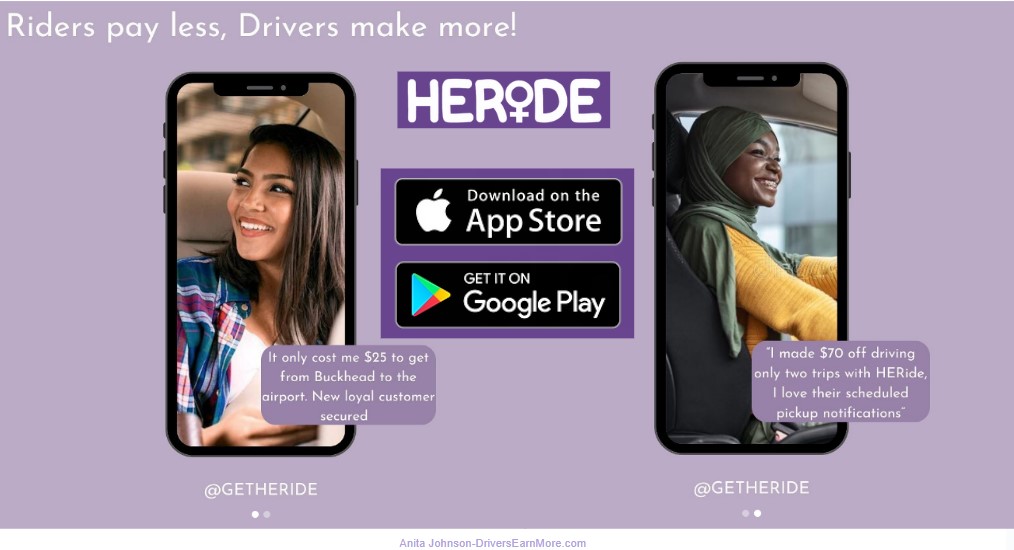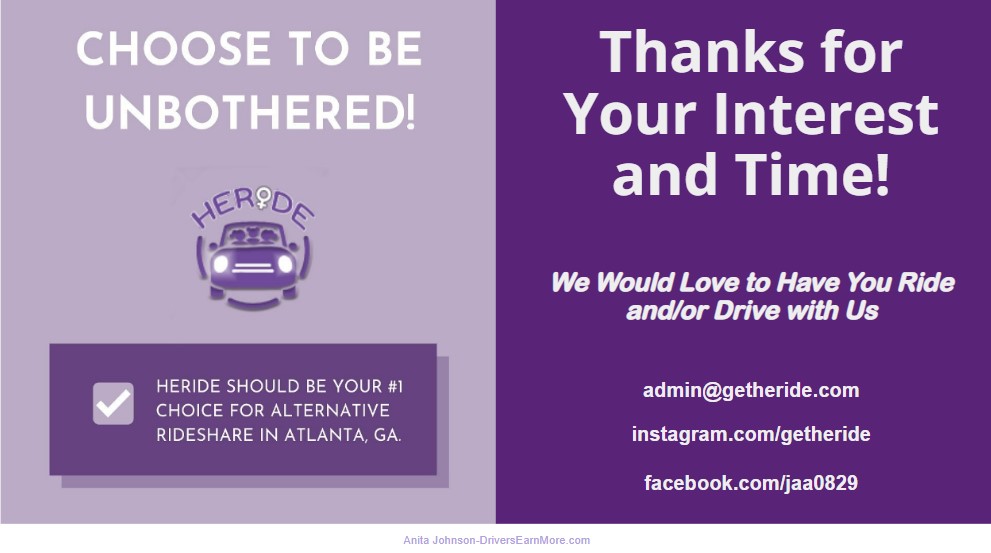 My next intention is to spend time editing the written record, and providing the final result as soon as possible. 
However, since I'm a team of ONE, it's going to be "a minute" before I can get it all done.  In the meantime, just listen to our interview and WATCH this space for further updates about HERide in particular, and rideshare, in general.
Thanks SO much for taking time to visit.
PLEASE freely share this information with your rideshare friends and family!
It's that simple and would be so appreciated. 
You have NO idea who YOU know that needs this information.
Remember:  YOU Do NOT Need To Be a Rider or Driver to help support the movement for a BETTER rideshare experience. Just share this site with others!
P.S. I'm fairly certain you found value in the content presented here because it doesn't exist anywhere else. It is my personal experience as a rideshare driver in Atlanta since August 2016. This site was created during Easter 2017 and has found new life since finding HERide.
So, feel free to TIP your rideshare and HERide driver, Anita Johnson. Every moment not "driving for dollars" results in a lot of time to do any and everything, but no money is made immediately. Rideshare drivers are out here for the money. Why else would we drive people from Point A to Point B in the ATL? 🙂
Appreciate Your Support as We ALL Do Better in Rideshare!