Originally posted on June 30, 2017 @ 3:49 AM
I wasn't going to tell this, but since I received some documentation I thought might be helpful to others, let me share what happened last Thursday at 5:27 PM.
I had attended a networking event downtown (will post about that later) and was trying to get home. Even though I know downtown streets, I have become addicted to following the blue line Waze shows me. And because I never want to miss my turns (and it was rush hour, bumper-to-bumper traffic), I sometimes want to turn a tad too early. And that's what happened when I made the left turn trying to get onto I-75 South off Courtland.
Instead of following Waze's blue line to turn left at Ellis (correct route), I turned a street before that onto John Portman and immediately realized I had made a mistake. Piedmont is in front of me, running perpendicular, and going one-way to my left.  I'm in the right lane headed straight onto the HOV Lane of I-75. I am committed and cannot change lanes when the light changes.
As I proceed around the curve, there are two motorcycle cops flagging people who do not have at least 2 passengers in their car. I was like the 4th or 5th car to be told to pull over to the right so the cars with 2 or more could legally continue.
You know I wasn't happy. The last thing I need is another something that costs money I don't have. And I cannot recall the last ticket I got, although I do remember receiving a warning in FL a few years back, but it didn't cost me.
The officer was polite (I was tense) and he let me know I wouldn't lose any points on my license; when my court date was; and asked me to electronically sign a gadget much like UPS has when they make a delivery to you. When he handed my license back, he also gave me a long narrow receipt looking "Uniform Traffic Citation, Summons and Accusation" (ticket). He could not tell me how much my ticket would be, but guessed less than $100. SMH
A few days later, I went to court.atlantaga.gov and found "Click here for a list of fines and payable offenses" to see details about the ticket. It wasn't in the system yet, but based upon the Offense and Code section, I used the number on the citation to look up the fine.
You can see any fine for any traffic offense HERE
When you press CTRL+F inside that PDF, you will get a "Find" box that allows you to type in the number of the code you are being accused of, and when you press Enter, you will go directly to that page with the details you need. Here's mine:
So I'm looking at $109.13 due before my court date, August 3. SMH
The good news is, a few days later, I received a postcard from City of Atlanta, Office of the City Solicitor regarding my traffic citation.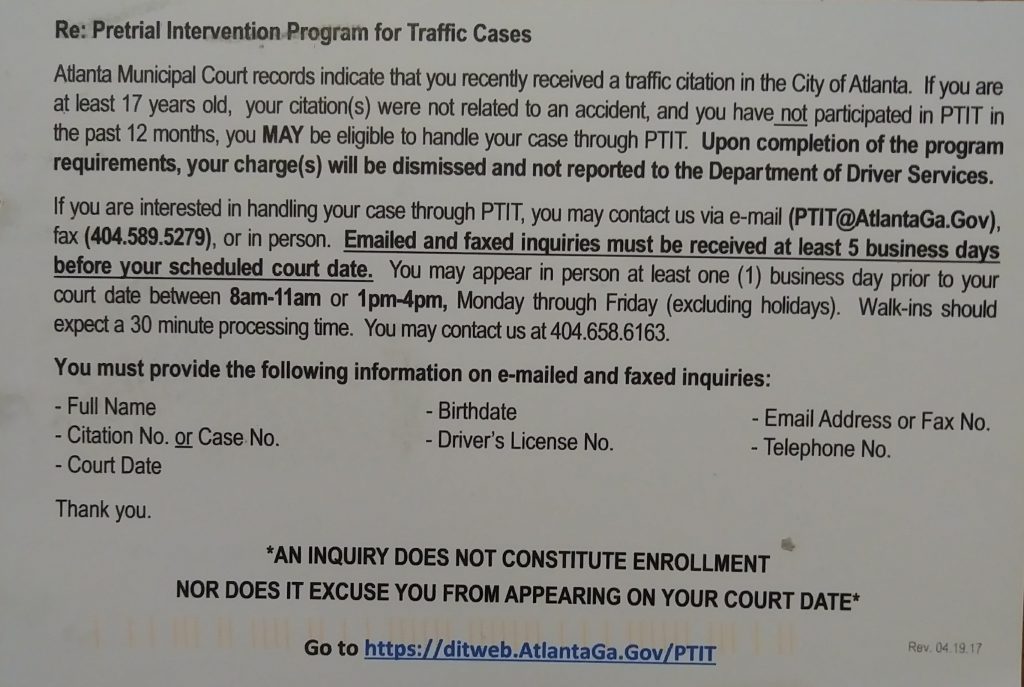 Naturally, I went to the website at the bottom of that postcard: https://ditweb.AtlantaGa.Gov/PTIT and read everything.
What is NOT on that site is how much the 'participation fee' is going to cost you, or the requirements of this Pretrial Intervention Program for Traffic Cases (PTIT).
Of course, I called the number on the postcard only to be told that no questions can be answered until an email or fax is sent with the information requested on that postcard. So, if you ever get such a postcard, save yourself some time and just email or fax what is asked for. Within a day, I received an email with 3 documents.
One document answered frequently asked questions and shows this:
WHAT ARE SOME OF THE ADVANTAGES OF PARTICIPATING?
Your charge(s) will be DISMISSED.
You will have NO conviction.
You will not pay a FINE along with SURCHARGES.
You will only pay a participation fee which is generally less than the total fine amount.
If you are unable to pay your participation fee or meet any program requirements today, you will have forty-five (45) days to SUCCESSFULLY COMPLETE the program requirements including the payment of your fee.
If you timely and successfully complete the program requirements, your case will be dismissed. As such, this matter will not be reported to the Department of Driver Services and your driving record will not be subject to points.
The agreement/enrollment form with my name on it, and the 'participation fee' amount with instructions to return that signed form by July 7th and pay before August 17 was the second document.
And the most relevant document, and reason I decided to share my own traffic ticket story, is the last one, SAFE DRIVING AND RESPONSIBILITIES. It's worth reading, downloading and/or sharing with others because it's expensive getting a ticket.
Thankfully, my "participation fee" is just $75 and I don't need to pay the extra $34.13 in court costs.  And there will be no conviction, my charges will be DISMISSED, and I avoid points on my license!  🙂

Lesson learned:  UNDER NO CIRCUMSTANCES do I drive in the HOV lane without someone else in the car!  I understand the fine is much steeper if you are caught driving in that lane and are pulled over.  I was just getting on the ramp by accident and got pulled over.  Best believe I won't make that mistake again!