. . . SCHEDULING your commute to work or wherever so you are not stressed or late.
Atlanta's traffic went from awful to unbelievable with the collapse of the bridge on I-85N on March 30. That meant commute time increased exponentially.
But even before the bridge collapse (and the miraculous repair and reopening that happened on the evening of May 12), thinking you can get anywhere in the ATL quickly is unrealistic and you really are creating your own avoidable stress. I have often told people you need to pack a lunch when traveling in this city.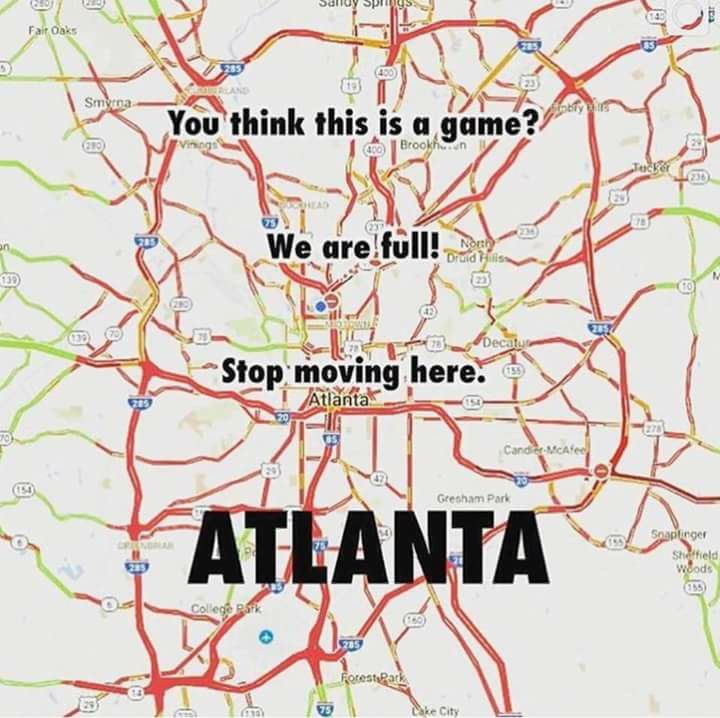 Requesting an Uber or Lyft is a smart move if you don't want to take MARTA. Your ride shows up within a few minutes. But that doesn't mean you're going to get where you're going on time. And it is unfair to blame the Uber or Lyft driver, or even MARTA.
Four of the events below happened all on an April Monday, and did NOT include the 4 regular adventures we experience every weekday.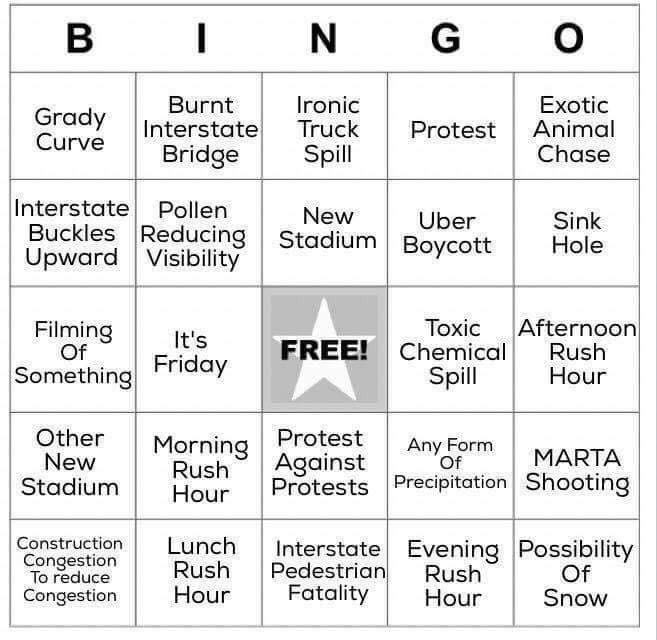 EVERYONE seems to leave for or from work around the same time. So of course, traffic is going to be backed up everywhere, and you are more than likely going to be late!
But WHAT IF YOU and your Flexx driver SCHEDULE YOUR COMMUTE so you are assured of getting to work or wherever on time?
For instance, you know you need to be at work by 9AM and it takes roughly 30 minutes to get there in "normal" traffic. Add another 15-20 minutes to account for the unexpected delays and increased congestion that is Atlanta traffic. And finally, allow time for your driver to get to you! We are either on another side of town or already on an Uber or Lyft ride, and we have to get through the same traffic.
So . . . that means you OUGHT to be booking your ride so you are leaving your pick up location at 8AM, at the latest. Of course, booking earlier is advised if you are located anywhere OUTSIDE I-285. In that case, give yourself 30 minutes for unexpected delays and increased congestion, which means being ready to be picked up between 7AM and 7:30AM to ensure arrival by 9AM (if not before).
I believe Flexx drivers could make that a reality, particularly if DRIVERS stake their own territories.
Atlanta has PLENTY of communities and neighborhoods where drivers could absolutely do well without having to chase the surge or be on the road for hours on end trying to make X amount of dollars. Back in the day (1978) when I first came to Atlanta, the Metro area consisted of 5 counties. Now I understand we're up to 30!
Potential Flexx drivers . . . How much money do you need to earn each day or week? Why not determine for yourself how many regular or number of steady passengers you would need to achieve that? Are you willing to find them in your own neighborhood or community? Or what if you were able to service the county you live in?
For easy math, let's say your goal is $100 a day, and on average, you figure earnings of $10 (give or take) per ride (not per hour). That means you would need 10 rides a day, or 5 regular passengers that you take to and pick up from work. Your weekly goal has been easily met and ALL other rides (Uber and Lyft) are gravy!
Flexx

Exists for the Benefit of DRIVERS and Passengers!
There is No Surge/PrimeTime or UberPool/Lyft Line Pricing.
Ride with Flexx
$15 off First Ride
Promo Code: NITA1314
Download the Flexx app
Please keep in mind that currently, Flexx drivers are few, but our numbers are increasing.  This means we are not YET able to be as quick or immediate in getting to you as Uber or Lyft.  But a driver will be there if you just consider taking a few minutes to plan your trip travel time to include and account for usual traffic delays and time for your driver to arrive.
I have imagined the new ride-hail service as the "new sheriff in town". Allow Flexx to earn your rideshare business in Atlanta. Isn't it time for another player in the rideshare industry in Atlanta? 🙂
So . . . will you help spread the word for the benefit of ALL of Atlanta? Clicking any of the Share icons will be helping achieve what I imagine is possible for interested rideshare drivers and Atlanta.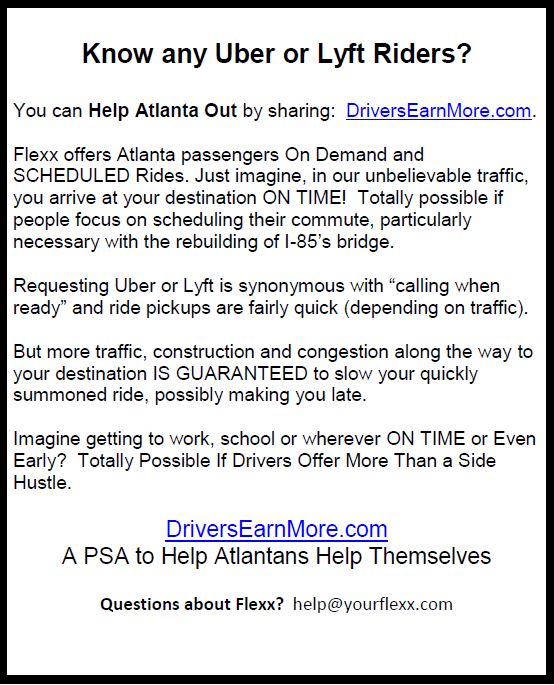 Thanks SO much for taking time to visit and PLEASE freely share this new site with your Atlanta friends and family!