Anita Johnson here and I AM excited to share information about the NEW ride-hail service that has come to Atlanta: Flexx On Demand Rides.
I AM an Uber and Flexx driver simply sharing GOOD NEWS!
I AM NOT the Founder, or connected in any way to the company's internal team. Every word on this site is my own; not to be construed as company policy or perspective; and Flexx's Founder is aware this site exists.
I AM also an online marketer, so creating a website regarding everything I personally know, or have experienced regarding Flexx and Uber, just made sense to me. No one asked me to create this, my referral site, nor am I being compensated for the original content.  Please keep this in mind as you peruse the site.
Everything I have learned about Flexx since their February 24, 2017 launch has been documented, and shared somewhere on Facebook.  In an effort to consolidate all of that, as well as help other rideshare drivers and passengers learn more about Flexx, this site was created.
The site is still very much a work in progress, and your patience is appreciated as it is updated.  As more information is acquired, it will be posted on the site for the convenience of potential Flexx drivers, passengers and those who simply want to help to spread the good news.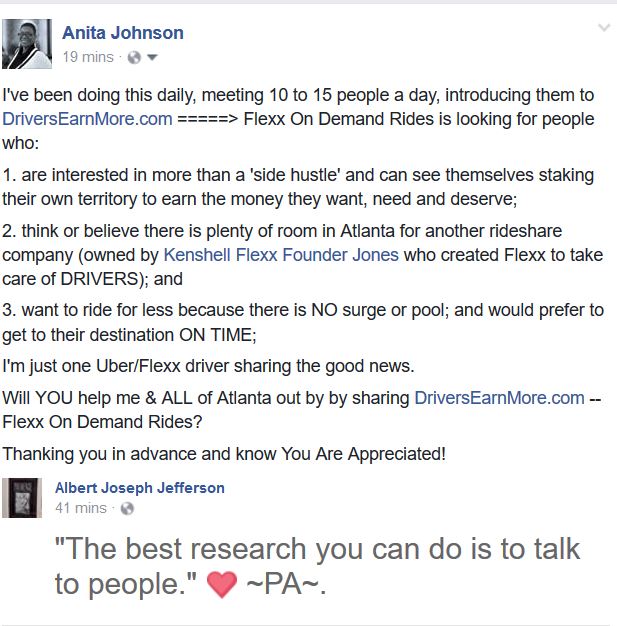 Download the Flexx Passenger app HERE to request a ride.
Download the Flexx Driver app HERE to apply to be a Flexx driver through the app..  After you have been notified that you have successfully passed Flexx's background and motor vehicle checks, you will also be invited to join the private Facebook group and can start receiving ride requests so long as your app stays on.  🙂
If you need a promo code to get up to $15 off your next Flexx ride, feel free to use mine NITA1314 unless you were referred to this site by someone else. That person brought you to the party so their promo code should be used instead of mine. We both thank you!