Since discovering the gig economy (it was called 'freelancing' back in the days when I worked with various law firms, before there were even temp agencies specializing in legal placements), I know that it's been a wonderful, challenging and growth experience for me. And being a ride-hail driver has been no different.
When I started driving in June 2016, it was never meant to be a "destination" gig, but a "journey on the way elsewhere" gig. And the more I learned about the rideshare industry from experts like, The Rideshare Guy, I knew I needed a Plan B. In fact, anyone who is driving full-time can probably relate to The Biggest Challenges of Being a Full-Time Driver.
Even better, I would hope any driver that reads this takes some time to play an online news game that I also learned about from The Rideshare Guy. I found it really fun to play and it revealed interesting data about rideshare driving and earnings. The game asks "Do You Have What It Takes?" and assumes you live in Sacramento, but you can also drive in San Francisco.
Even though I live and drive in Atlanta, I played both the Easy and Hard versions and both results confirmed what I already knew from driving in Atlanta, personally. Try it! I'm betting you will be surprised (or not).
SO, What's MY Plan B?
I've been working on it since I realized driving Uber will never earn me enough money.
Two years ago, I learned about a new to Atlanta ride-hail service and created this site to promote it in an effort to help other drivers see another opportunity to increase their income. Unfortunately, when that service's app stopped working, there was no reason to continue, so I let this site languish.
Fast Forward to Today …
I am excited about another ride-hail opportunity that I learned about at the Uber Hub in Atlanta during the Uber rally in support of the protest/strike. It was just days before Uber made its dismissal debut on Wall Street's Stock Exchange.
News articles state they lost $6 BILLION in 5 hours!
So, as part of my own due diligence, I am looking for any red flags regarding this NEW opportunity, and also invite you to do the same by watching and listening:
This video was recorded when I first learned about TRYP in May. Because much has changed and as of October 12, TRYP is no longer a network marketing company or MLM. So forgive that statement made in my earlier video.

TRYP is an app company in the TNC (rideshare) space offering riders and drivers a simple referral program to help launch a BETTER service. See below for details.
Now, take a look at what I've seen so far after signing up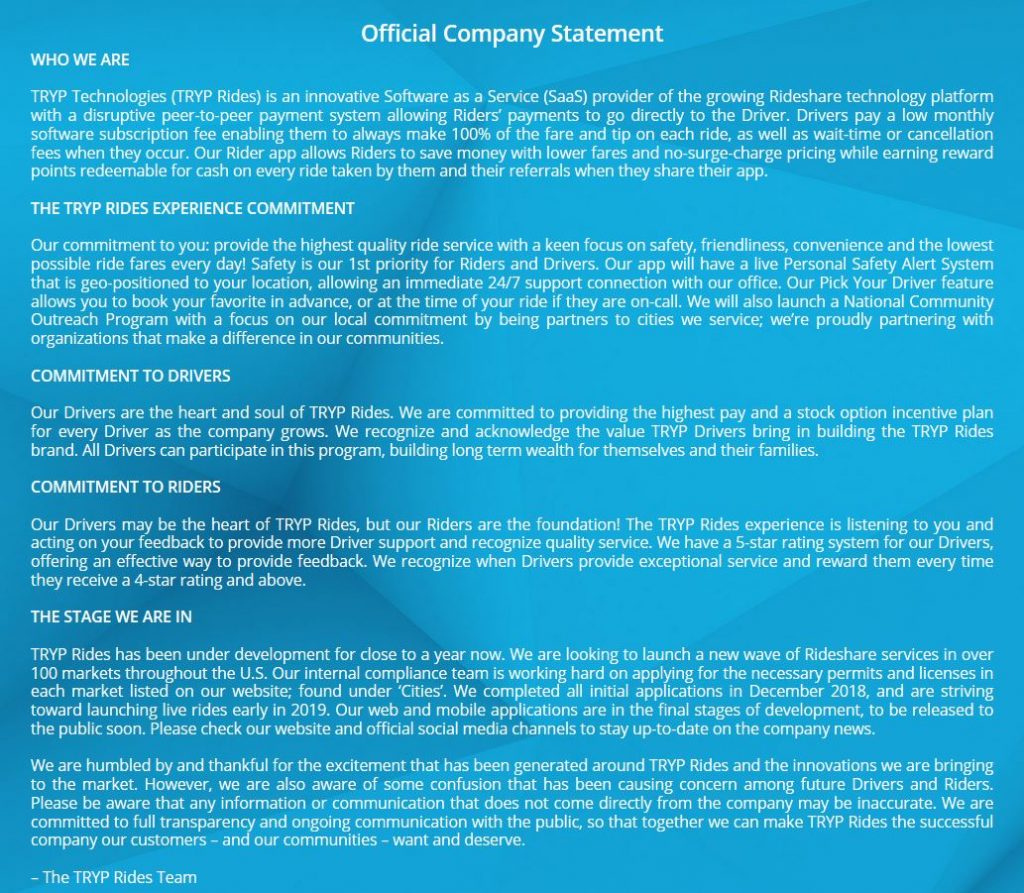 Inside the Free Rider Account
NEW VIDEO COMING SOON
---
So if any of this is of interest to you, or you know someone who may be interested, get yourself a free rider account by downloading the app HERE, and then share from your app far and wide.
And IF you have any affiliate or referral marketing experience; or ride or drive for Uber /Lyft, then please help us build a BETTER rideshare experience by sharing this site with others.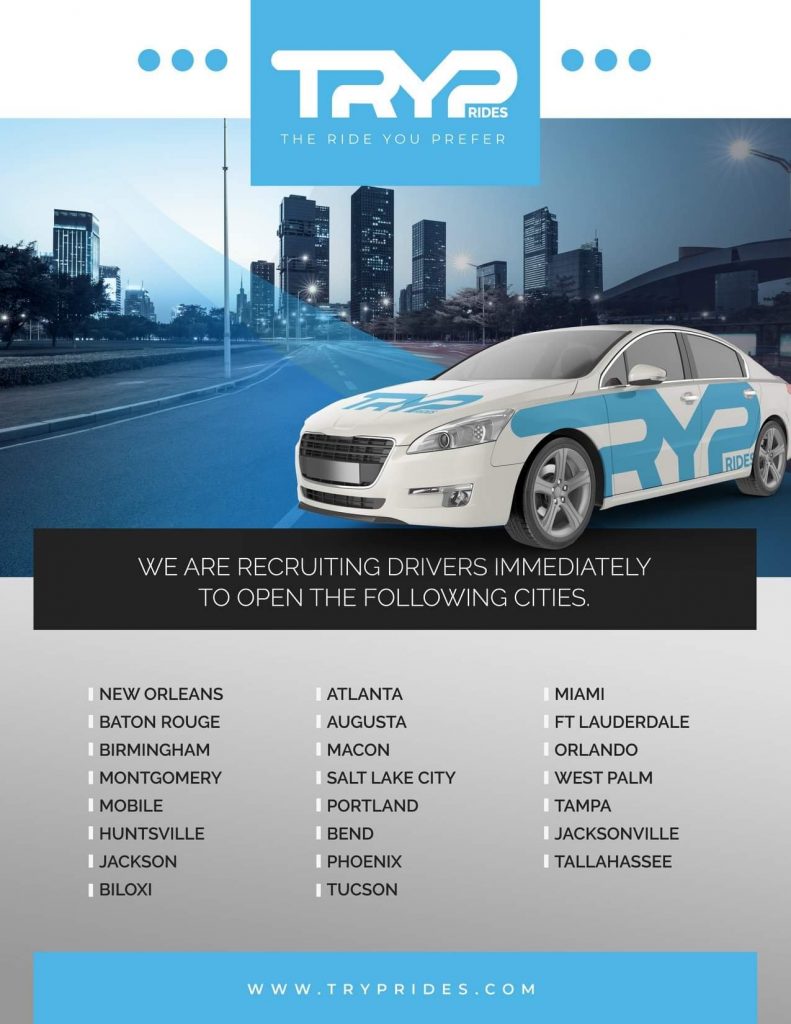 The NEW and IMPROVED TRYP Rides offers a simple Referral Program for both Riders and Drivers where everyone can earn as much as they are willing to work for it.
Rider Referral Partners will earn 30% of every monthly driver's subscription plan as long as the driver pays either $39; $89 or $149 per month.
Driver Referral Partners will earn 50% of every monthly driver's subscription plan pays either $39; $89 or $149 per month.
Please do someone a favor by sharing this post with them.
We both would surely appreciate it and thank you in advance for your support!