What follows started as an email to the people who have already registered for a free rider account. As I kept writing though, I decided it would be better as a blog post. So, instead, I will email the link to this post to those people, and anyone joining in the future. 🙂
---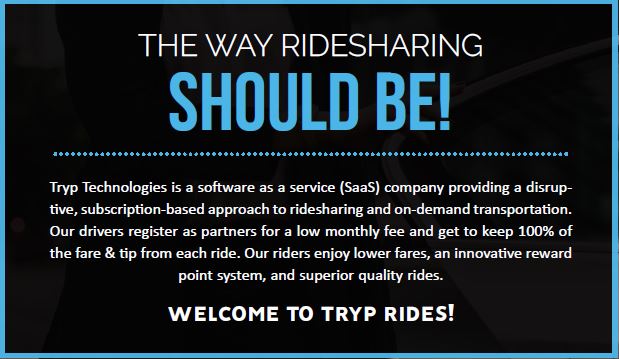 THANK YOU for getting your own TRYP referral code ID when you signed up for a free rider account or downloaded the app using my referral code.
Chances are good we met at the Uber protest on May 8th; the airport RAA; you rode with me on an Uber trip; or maybe we met in Miami recently. It's even possible you have even seen one of my flyers or gotten my business card somewhere. Whatever the case, thank you again for supporting drivers and wanting to help build a BETTER ride-hail experience for everyone.
Now, if you haven't yet read this blog, please do take some time to do so, and then feel free to share it if all you plan to do is wait until TRYP actually starts driving riders in your area. You can do that, but you are not helping yourself so I am not encouraging that. 🙂
I wrote Drivers Earn More two (2) years ago because I was promoting a different ride-hail service that had come to Atlanta and we were looking for drivers and riders.
Long story short, I DID earn more money with that ride-hail's app because the miles and minutes were more than what Uber was paying at the time. And I made money driving with that company while continuing to drive Uber. I continued to drive Uber primarily because there were not yet enough rides with the new service AND I was focused on converting some of my Uber riders to that service.
There was supposed to have been referral money paid, but honestly, I have no idea whether it was. More importantly though, you HAD to be a driver in order to have a referral code. And when the app stopped working, well, there really wasn't anything else for me to do.
My goal then, as it is NOW, is to earn the referral residual money being offered. That is one of the first benefits that attracted me to TRYP Rides.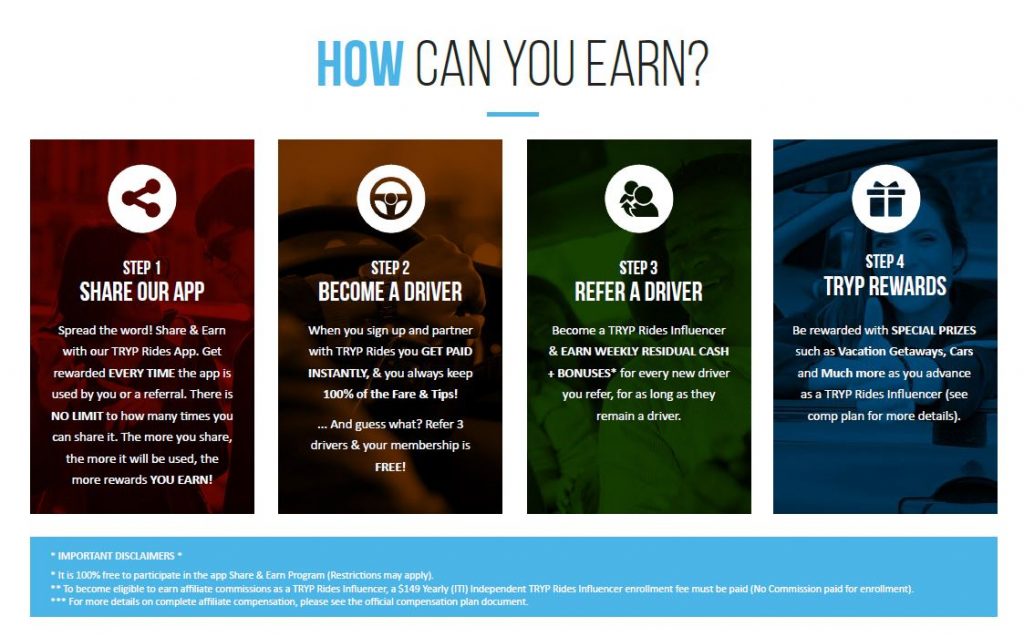 Because you registered for a free rider account and created your own referral code to get more information about TRYP, you now have the opportunity to earn 40 cents, for life, for every ride that is taken using your referral code.
Let that sink in for a few minutes.
So, when you share your referral link or you share from the TRYP app, how many people will learn about TRYP through you?
Think about it like this . . . the latest movie you saw . . . you liked it so much, you told anyone who would listen that they just had to go see it. But neither the movie's actors, crew, directors, producers or any theater paid you anything to tell others about the movie that just premiered. Right?
TRYP is rewarding everyone who joins the movement with an incentive to tell everyone you know. I hope you will.
The second benefit that attracted me to TRYP was the 100% fare earnings direct from rider to driver. TRYP will not have anything to do with rider transactions as drivers will have their own merchant accounts, and payment is direct from rider to driver.
Yes, there is a one-time SaaS app licensing fee that includes the 7-year nationwide background check; insurance; merchant account setup; and onboarding of a new TRYP driver.
Each driver can determine which driving plan is best for them and pay the monthly subscription at the end of the month. Those subscription payments are not being taken until a market launches and trips are being taken.
And that monthly payment can be waived if a driver finds 3 other drivers willing to join TRYP as a free rider, like you did, and they then decide to upgrade to driver, like some of you might.
Are you questioning WHY drivers have to pay to drive for TRYP?
Well, drivers are paying NOW to drive for Uber and Lyft! And, sadly most drivers do not realize it. I certainly didn't until last month, and when my eyes were opened, I wrote "How Much Does Uber REALLY Cost?"
There's more I could write, but I need to be driving. Just know that I'm here to help anyone who wants to save money and earn better money. There is a better ride-hail service being built for drivers, and my hope is you will want everyone to know, just like I do.
Aside from clicking that heading text above, please remember to join the OFFICIAL TRYP Rides group on Facebook using your referral code. That is the best place to get your questions answered, and to participate in the Zoom corporate update sessions on Thursdays at 9PM Eastern. If you miss it live, the replays are there for your convenience, along with hundreds of comments.

Looking forward to being of assistance as we help "Disrupt the Disruptors".