This is the email I sent to those who signed up from my own TRYP™ referral link, probably through this site.  But the following information is extremely important for EVERYONE to know because of the
MASSIVE Changes to TRYP Rides™, Effective October 12, 2019.
To summarize …
TRYP™ is now just an app company with a referral program for both Riders and Drivers.
That means the Influencer role no longer exists after midnight tonight. Influencers are the people responsible for recruiting riders and drivers and taking TRYP™ to an existing 90,000 membership since last November/ December.
All content relating to TRYP™ prior to October 12, 2019 has to be removed from where ever it is online as it no longer applies. That means I'm in the process of updating this site.
Since crashing my rental car on Tuesday (I'm fine, thanks for wondering), I have more than enough time to attend to the updates I need to make.
TRYP™ is a Referral Program for both Riders and Drivers!
Everyone who downloads the new and improved TRYP Rides™ app can become a free Referral Partner!
What that means is every time someone decides to upgrade to be a Driver, the referring person (Rider Referral Partner or Driver Referral Partner), will receive a one-time $25 Customer bonus.
The Customer is the Driver who pays the NEW one-time fee of $99 to get the background check and merchant account setup.
Every Driver will have a 7 day trial before being billed for the subscription plan the Driver chooses at sign up.

The new plans are $39; $89 and $149. The graphics with more details are HERE

Monthly commissions will be paid on whatever subscription plan the Driver chose.

For Rider Referral Partners, that commission is 30% on every Driver so long as they pay their subscription.

For Driver Referral Partners, it is 50% commission on every Driver so long as they pay their subscription.
Also know that TRYP™ has in place a serious automated marketing funnel and you have probably been receiving emails from them if you have a free rider account already.  You will want to read them and act accordingly.
There is also a NEW private Facebook Community for Referral Partners.  You can join it once you have your own referral ID and link, as it is needed to gain access.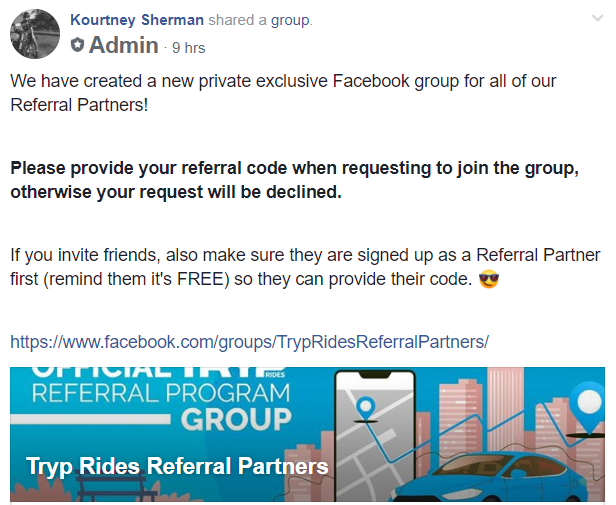 Now that the system is more automated and in touch with all new rider registrations, if, for some reason, you are no longer interested in TRYP Rides™, then YOU will have to unsubscribe from those emails (again, something I wouldn't recommend).
And if you were referred by me, and do not wish to receive further emails from me, there's an unsubscribe link at the bottom of my messages to you.
Lastly, if we're not yet connected on Facebook, you are welcome to like and follow me at AnitaJohnsonSupport and join TrainingSoItGetsDone so you will know when I post to my page and group. Most videos make it to my site, but some do not . . .
Like the photos of the car damage shown in Video 8 on Day 9 of the Go Live Every Day in October Challenge HERE.
Looking forward to helping us ALL build a BETTER Rideshare experience.