NOTE:

The title and content of this page is solely my own as a driver. Please do not ascribe anything on this page as being any  company policy or perspective.  I AM NOT the Founder or part of any company's internal team.  I AM a rideshare driver sharing a funny story.


Had the title been "Etiquette Reminders" or something similar, it may not have gotten your attention. 🙂

What follows is what happened when I told my friend about a recent drive. It's about our reactions, and my personal feelings about MY car.
---
Let me tell you a bit about my friend, Maxine, so you'll better understand that title . . .
I've known Maxine since 1978 when we worked together at my first law firm. She's 75 now and has always been a fun and saucy lady who you will NEVER catch without a hat of some sort on her head. No one wears a hat better than her. And her quick wit reminds me of that cartoon character by the same name.
Most importantly though, she's shown herself to be one of my BEST friends because she offered a room in her home after I had already moved twice since coming back to Atlanta.
The title of this piece of writing is direct from Maxine's mouth.
And what prompted the title is what I was relaying to Maxine about a drive I had just come back from. I so wish we had recorded our conversation! You would have doubled over in laughter with tears streaming from your eyes! 🙂
Anyway, I drove this 20ish young woman to her job at an adult entertainment joint. I've been picking her up and dropping her off, every now and again for a few months, as a favor to a mutual male friend. The girl has some issues, but who doesn't and I'm not judging.
However, when relaying to Maxine how "Missy" behaved today, Maxine was hilariously incredulous.
"What do you mean she didn't have on any panties?!!!!?

NO, NO, NO!

Panties are REQUIRED!

And thongs are NOT Panties!

I don't care if she doesn't have on a bra, but everything below the waist MUST be covered!"
After we both were able to bring ourselves under control from the hysterical laughing and tears, I realized that was as good a lead in to some Etiquette Points that some folks ("riders") apparently were never taught or told about.
Let me start by reiterating that I do NOT speak for ANY RIDESHARE ENTITY!  I'm simply telling you about ME and MY Car, "God's Blessings"!
Because I AM a rideshare driver who has been reassessing my driving options for months, I decided to start promoting the new to Atlanta ride-hail service as a driver.  In my personal opinion, which all this website is about, the new service could be whatever any driver chooses (within the rideshare TOS, of course).
This site is my effort and contribution toward helping them grow.  I believe the vision is to treat people better . . . drivers and passengers alike.  I LOVE what has been brought to Atlanta and I'm using what I know to help those who wants better.
As an driver who is still paying on my car, "God's Blessings", I think I can safely speak for most drivers though because we are using our personal vehicles to transport strangers.
So here are the Common Courtesy and Home Training Points that we would hope all passengers riding in our cars would abide by.
WHY, you ask?  Because we said so (remember hearing that from your Mom?)

Many drivers are Mommas, and we KNOW your Mother taught you better!  But in case she didn't, or you somehow missed the lessons, let us school you real quick:   🙂
If you are riding with a child 8 or younger, Georgia law REQUIRES a safety seat or booster.

Some drivers may provide one for you, but I wouldn't count on it.  You can be sure you won't find one in my car.
If you don't bring a safety seat or booster with you, you and your child will have to find another way to where ever you're going.  Not SORRY either.  As a parent or other responsible adult, the law applies to you too, and as drivers, we are under NO obligation to assume the responsibility of anything happening to your child because you were not prepared, or were unaware of the law.  Now you know.
No driver intends to be mean when telling a passenger that a safety seat or booster is needed. And we do understand you may not own one.
BUT . . . NONE OF US Will Be Taking the Risk of getting stopped, ticketed, or heaven forbid, being in an accident with YOUR child who is not legally and properly secured.
Your child's safety is YOUR responsibility FIRST!
I already raised mine. 🙂
Drinking anything alcoholic and RIDING is also against Georgia law.  That means drivers are NOT obligated to ride you anywhere with an open container of any kind.
If you haven't gotten your drink on before getting in our cars, you won't be getting in, or getting it on, while riding in our cars.  That goes for sex too (shame it has to be said, but we want to make sure we've covered all of our bases).
When getting out of the car, PLEASE, PLEASE . . . just close the door.  I cringe every time someone slams my passenger or back doors, and I know it's happened over 1,000 or more times.  I have yet to say anything, so now I'm saying it.
STOP SLAMMING THE CAR DOORS!  Anything happens to "God's Blessings",

YOU

won't be the one paying for it.  So PLEASE be more considerate of the drivers whose cars are safely transporting you.
Do

NOT

think I'm going to change the music I'm listening to in order to suit you, or because it may make you uncomfortable.  What I listen to is what keeps me sane on the road while driving.  If it's particularly taxing out there, I WILL turn on some gospel and you'll just have to deal with it! If it's Sunday, you WILL hear and see me praising God and Jesus!  Most of the time though, I'm just hand dancing to something with a lot of soul, rhythm and blues.  🙂

I had an Uber rider recently in the front seat and his 3 friends in the back.  One talked nonstop the entire trip to the guy sitting next to me.  He mistakenly reached to turn the dial on my radio, as he asked whether I minded if he changed the station to whatever it was he said.
My immediate and unapologetic reply was "NO! This is

my

car and the only person allowed to touch the radio dial is me, the driver.  My son even knew when riding with me, driver controls the radio, ALL music and volume. PERIOD."
Listen, I KNOW people need rides and I see what I provide as a service.  It's not ONLY about the $$$$$ for me, although I have been "Driving for Dollars, and needing $$$$ is the reason why I started driving in the first place.
Aside from the obvious, I also KNOW what it's like to not have a car or access to one, always having to rely on someone else to get you somewhere.  For 2 weeks, God's Blessing's was in Orlando awaiting sale at auction.  My first Uber ride was to redeem and retrieve it a day before it was scheduled to be sold.   Hallelujah, THANK YOU JESUS!  🙂
SO I have a heart for people who are still experiencing the struggle of getting around, particularly in this city.  However, I so want to go back to earning my living being online as opposed to driving.  BUT, if I must drive, I want the top $$$$$ being paid.
Understand that my primary commitment is getting you safely from point A to B, MAYBE helping with luggage if your physical stature shows you need me. Overall, however, I'm only opening the door from my seat (unless you need assistance getting in), greeting you as friendly as I know how, and moving us down the road, with or without conversation, your choice.
What I know none of us drivers want is to be disrespected in any way shape or form. That means how you treat us, that back seat and how you leave it.  Please exit with all your stuff and trash.
If you are so drunk you're going to be sick, PLEASE continue to call the more well-know options to get you where you need to go. I personally have NO time for that!
OK, forgive me if I came off some kinda way . . . while writing I was reflecting on my Mom, whose 82nd birthday would have been Tuesday, May 2nd.  She passed on May 9, 2015 — a week after her 80th birthday. I'm SO GRATEFUL I was in Georgia with her when God called her home to be with Dad.
They raised us well and I think Mom would be especially proud of the focus and energy I've put into the site.  She was always my biggest supporter and had my back no matter how I treated her.  And I know my son can say the same about me.
So, thank Maxine for any laughs or smiles you may have let involuntarily slip.  We love folks and just want to do good and want everyone else to just act and do better . . . like Momma taught you.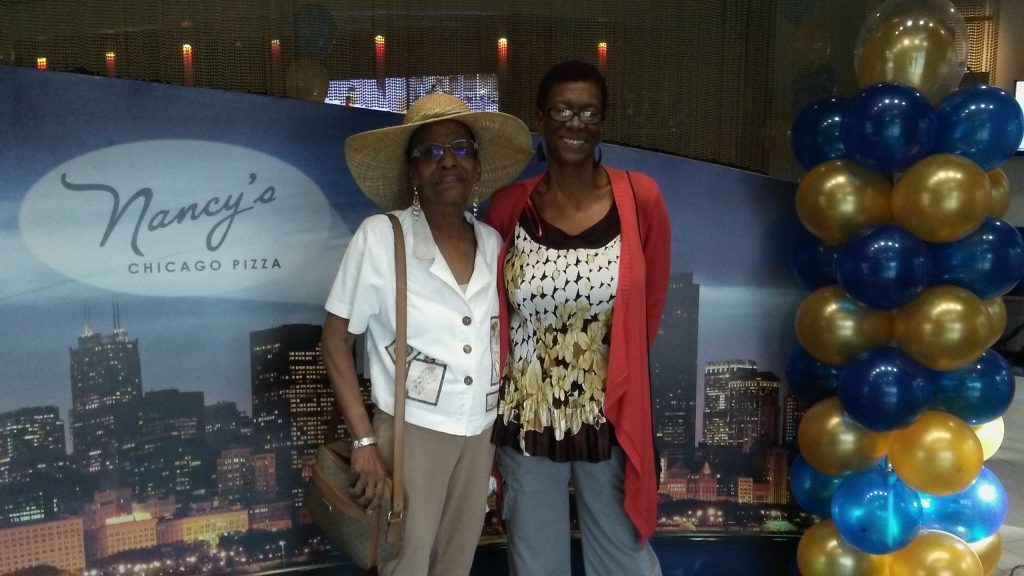 Happy Mother's Day!