This website actually came about because I decided to go to the Rideshare Assembly Area (RAA) at the Airport to meet and talk to a few drivers about Flexx; and what was supposed to have been an upcoming Job Fair scheduled for April 22nd.
At the time, I had a few business cards I had picked up from Flexx's Founder. Once I had talked with 10 drivers or more, and had no more cards to give out, I decided a flyer was the next most efficient way to get the word out about the upcoming Job Fair.
After handing out 150 of those flyers and meeting as many drivers, I decided the only way to scale my efforts was to create this website.
Unfortunately, the Job Fair was postponed primarily because the week before, the Easter Egg Hunt hosted by Flexx had over 600 people attend but there were NOT ENOUGH eggs . . . OR Drivers!
SO . . . IF you are one of the many people I have met personally since early April, please accept my apologies and allow me to share some more thoughts about the possibilities I see with Flexx.
Metro Atlanta is HUGE!
And drivers live everywhere, inside and outside the Metro area, not to mention the other 100+ counties that have NO Uber or Lyft service at all.
We all know this because some drivers are coming from hundreds of miles away and sleeping, chilling, hanging out at the RAA!
And there's nothing wrong with that.
In fact, I think the RAA is a GOLDMINE of information IF drivers were to simply talk to each other instead of sitting in their cars like they don't know anybody.
You've may have seen me and perhaps we have even spoken. I get out of my car and go meet drivers in or around their cars. And I have either handed out a flyer or card and explained what I think Flexx can be to Atlanta.
Allow Me to Recap, In Case We Haven't YET Met . . .
In my opinion, Flexx brings the opportunity for drivers to think TERRITORY.
As a driver, where do you live?
Are there people in your area that could use your services of getting them from Point A to Point B?
If so, how many of those people would you need on a daily/weekly basis to meet your financial needs and obligations?
The minimum fare is $6.50 (as is the cancellation fee), so a Flexx driver earns 80% of that, and all fares.
The Passenger always pays exactly what the Driver earns, which is 80 cents/mile and 18 cents/minute. There is NO surge or Pool.
So for easy math, let's just say each drive earns you $10 on average.
You want $100/day;
That's 10 passengers;
We can easily all do that in a day;
And any other Uber/Lyft rides are simply gravy!
My goal as a Flexx driver is to offer what Uber/Lyft cannot offer:
A dedicated driver for passengers who want one;
A driver who views getting passengers from Point A to B as a service first, knowing the money WILL follow because what Flexx offers is filling a NEED (as opposed to a want);
Earning a passenger's business by getting them where ever ON TIME.
Uber/Lyft riders are accustomed to requesting and getting a driver quickly.
But they do not necessarily NEED a ride.
Uber/Lyft riders are simply people who either WANT a ride or who do NOT want to drive!
And there's nothing wrong with that either!  NO problem.  Uber and Lyft can keep those riders.
Personally, I'm more interested in serving the population that NEEDS a ride.
And we as Flexx drivers can be the answer to that NEED.
I personally understand what it's like to not have a car; to have it repossessed. In fact, June 1, 2016, I took my first Uber ride to Orlando to redeem my car! (Still Praising GOD that I'm driving it today!!!  I share that testimony freely because I was two weeks without, and in the process of becoming homeless at the same time.)
Lastly, IF Flexx drivers think this idea of serving the community where they live through to what I believe to be a logical conclusion, let's talk about the young people who get their learners' permit at 15.
These young drivers are going to want to use some adult's car. And that adult is responsible for teaching that young person how to handle driving, and how to act when behind the wheel.
Yes, those are challenging times, but during those years, we can also be prepping those young people and helping them keep their driving record clean.
Then when they become "adults in the eyes of the law" and can get a real drivers license at 18, they can also legally drive for Flexx (unlike Uber, you must be 21).
And for the really lucky 18 year old whose parent(s) can afford, and dare to GIVE that child, a car . . . but that 18 year old's hand is still out, and in a parent's pocket . . .
WELL . . . that 18 year old will have a clean driving record, and the parent can instruct that young adult to download the Flexx app and go find his/her friends that NEED a ride somewhere!
Have them make the money they want and need!
Simple. Instant Business and 3 years of training has already happened!
Anyone else see the picture I'm trying to paint?
OH, and Flexx accepts Rush and Green Dot cards (ya'll know who uses those!) 🙂
WAIT! Are you asking yourself where do you find the Flexx passengers? Well, that's totally up to you. Some of them are riding in your cars now, but they don't know about Flexx yet because you haven't told them.
Besides, who would you rather ride anywhere? Find those people. It's not hard. We're already picking up strangers!
The beauty of Flexx is you are not limited to randomly picking up strangers. YOU decide who you'd like to have in your car. Flexx is ALL about its Drivers!
So, develop the relationships necessary to sustain what you financially need while providing the ride-hail service so many more would be and ARE appreciative of using.
So . . . what more can I say on this site to entice you to add Flexx to your daily driving routine?  🙂
Hope to see you in the private Facebook group after you've passed your background and motor vehicle checks.
Be Blessed and Stay Safe!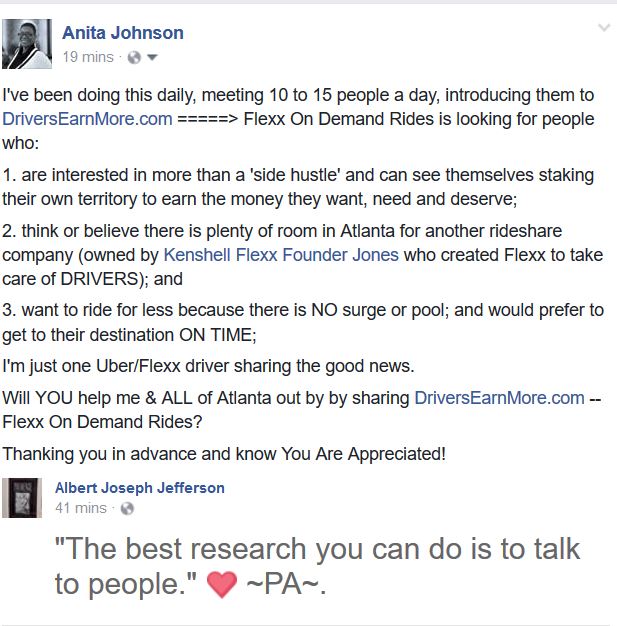 Download the Android Flexx Passenger app HERE
To be a driver, APPLY HERE through the driver app.
iPhone users download from HERE
After you have been notified that you have successfully passed Flexx's background and motor vehicle checks, you will also be invited to join the private Flexx Drivers of Georgia Facebook group for information and will also receive ride requests so long as your app stays on.  🙂
If you need a promo code to get up to $15 off your next Flexx ride, feel free to use mine NITA1314 unless you were referred to this site by someone else. That person brought you to the party so their promo code should be used instead of mine. We both thank you!