An internet marketing colleague, Lou Bortone, offered a FREE opportunity to learn how to use Facebook Live.
Hundreds joined the Go Live Every Day In August Challenge. People from all over the world got over their fear of being on camera, and pushed through their busy schedules to do at least one Facebook Live video every day for 31 days.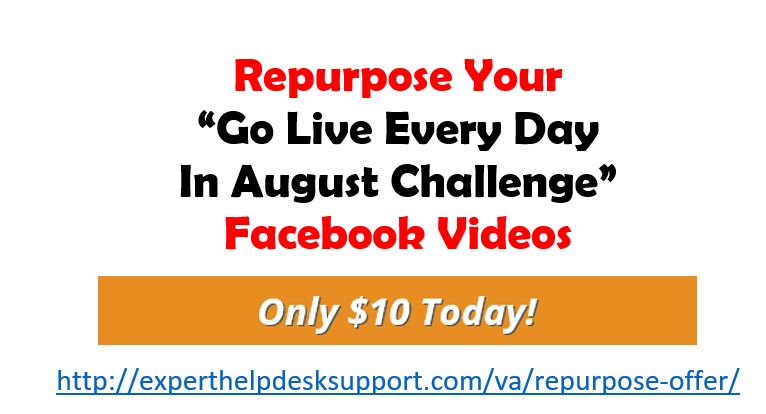 The primary reason I decided to participate is because I saw it as an excellent way to get over my procrastination of doing Facebook Live videos. The experience was fantastic and not nearly as scary as one may first think. We all learned from each other while creating our online content together. Truthfully, I think the people who participated in the Challenge did an excellent job of helping others get to Know, Like and Trust them!
Half way through the Challenge I had an idea to offer written documentation of the exact steps I used to get my Facebook Live videos onto my website and onto YouTube. Here is the Zoom interview with Georgia Lee London introducing me and how I can assist anyone who would like to be able to take their Facebook videos and add them to their website or YouTube.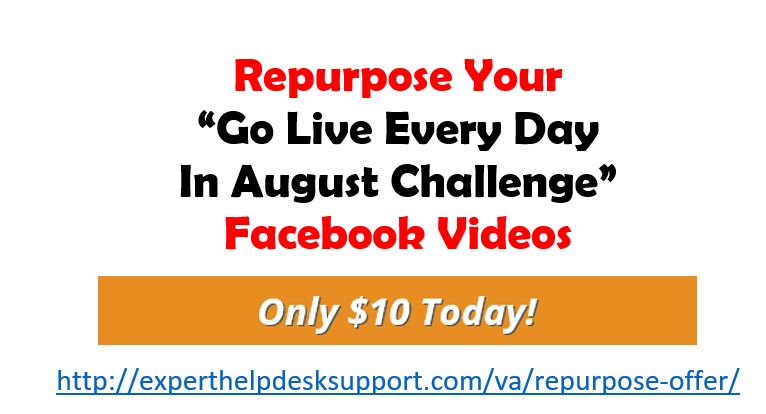 And most of the videos I created during August are below.
Depending upon your browser or smartphone, you may need to turn your sound on for the videos when you click to play. If the speaker icon is missing, please go full screen to see it so you can un-mute the sound.
Day 1
Day 2
Day 3
Day 4
Day 5
Day 6
Day 7
Day 7-Bonus 1
Day 7-Bonus 2
Day 8-Buddy Edition
Because this was recorded using Zoom, embedding the video causes it to play immediately.
Click here to open the safe, Dropbox link of the Zoom recording in another window or tab
Day 9
Day 10
Day 11
Day 12
Day 13
Because this was recorded using Zoom, embedding the video causes it to play immediately.
Click here to open the safe, Dropbox link of the Zoom recording in another window or tab
Day 14
Day 15