First, for taking time to go through my website. It is appreciated. I hope the information presented helps you make an informed decision that benefits you and those you know.
Second, because I've been a distributor for SendOutCards since August, 2007 (10 years!), I AM sending my new ride-hail passengers CUSTOMIZED Thank You cards.
Ebony was my Uber rider several months ago. On that ride, we witnessed a young man run out of his shoes while being chased by the police on Columbia Drive. Traffic had stopped and she saw the police tackle the young man before the MARTA bus hit him. Because we both had a "moment" over what we witnessed (knowing it could have gone an entirely different way), when the ride was over, she asked for my contact information because she liked what I had been telling her about Flexx and wanted to give the service a try (especially since it was going to save her money).
She and her husband, Rodney, had been my BEST passengers to date, and I had to let them know. She told me they LOVED the unexpected card and the AWESOME brownies that came with it.
My plan is to also send birthday cards to my passengers because EVERYONE has a birthday and deserves to be celebrated.
And here's the front of the card I sent to Flexx's Founder, as my Thank You for bringing the new ride-hail to Atlanta.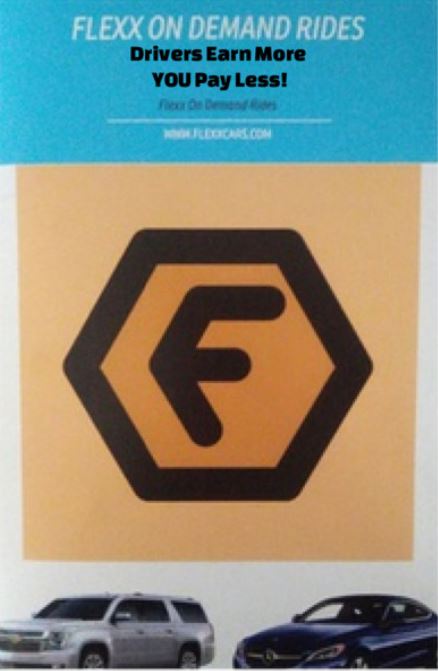 She was very surprised by the unexpected card. Not only because I recreated her marketing brochure from my computer at home, but because a 2-pack of our DELICIOUS brownies came with that card.
I knew it would be the most appropriate way to show her how the new ride-hail service could also use SendOutCards for its promotional materials and thank you cards, maybe down the road, after it has been firmly established in Atlanta.  The black text at the top is what I added to further customize the card for my own 'show and tell' purposes.
Anyone can TRY our greeting card service for FREE  from the comfort of your own home computer or smartphone. The cost of the card ($.93) and postage ($.49) is my GIFT to you!
Just imagine . . . You will not need to ever go to the store to buy another greeting card, or the post office to buy stamps, or stand in long lines to get your Christmas cards in the mail.
SendOutCards' state of the art technology in Salt Lake City prints our cards, puts them in envelopes, addresses and stamps them, and delivers them to the post office for mailing the next business day.
Your card is delivered anywhere in the world by the United States Postal Service. And postage to military bases is the same as if those bases were on US soil.
So why not take a few moments to Accept My Gift?
Send someone YOU care about an unexpected card!
It only takes a few minutes to tell someone how special they are to you or that you are thinking of them.  Nowadays, however, we don't spend a lot of time doing that.
We text each other Happy Birthdays, Merry Christmas, or whatever, out of convenience.
But it's not a personal touch or heartfelt enough sentiment for me, or for the person receiving it.
Sending unexpected greeting cards received in the mail that you can send from your phone?
NOW, THAT IS CONVENIENT! And cost-effective too!
SendOutCards wants to end mailbox neglect . . .
All we seem to receive in the mail these days are advertisements of all kinds and, of course, bills.
SendOutCards is on a mission to change that, and the world, by showing others how to reach out in kindness by sending personal and heartfelt expressions through greeting cards and gifts.
Just click "Send a Card" and YES, when prompted to go through the short guided tour at Greeting Cards From Home.
At the end of the short video, you will have created a card ready to be mailed to someone you care about.  You both will enjoy the experience, I'm sure. 🙂